With excitement, hazardous adventure and heat from many sources, JJ Black introduces us to a new series called Revelations with Ask the Oracle, Book One.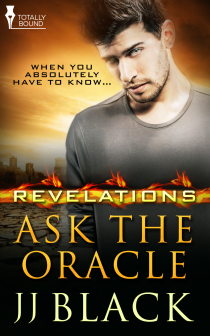 As an Oracle, Grayson Muir can say that he knows it all. Rumored to be among the most powerful, Grayson does not buy into that as his goal is to help as many people as possible. He is focused on his goals and cannot afford any distractions in his life.
Gray soon learns he cannot live his life free of distraction when one very sexy demon, Andreo Demos, pays him a visit. The Lord of the Underworld has been murdered and he needs Gray to help him uncover the murderer. Gray has always resisted working with demons. They are unreliable at best, but Dreo is not taking no for an answer. Against his better judgment, Gray accompanies Dreo to the Underworld to investigate.
This is when everyone starts to go awry. Dreo is sure they are destined mates. Court intrigue interferes with the investigation and Gray realizes there is more than one murderer on the loose. When their mating becomes a reality, Gray and Dreo will have to work hard if they are to survive to see their mating thrive.
Gray was a powerful oracle and Dreo needed him to help. Their first meeting went less than as Dreo desired. Gray was sure demons were not for him. Their encounters made for excellent reading as Gray was fighting his desire as much as Dreo did not. When they do come together, not even the heat of hell could compare. Life is never easy, though, as these two find out when court intrigue and murderous intentions interfere.
JJ Black has created the perfect book for those of us who love MM stories with a big dose of danger, adventure and passion. Ask the Oracle will tantalize your senses and leave you wanting more.
Star Rating: 5 stars
Sensuality Rating: Sizzling
Genre: Paranormal
ISBN: 9780857156914
Page Count: 165 pages
Price: $5.50
Author's Website: http://jjblackbook.com/
Buy It Link: https://www.totallybound.com/ask-the-oracle
Available: Ebook